Trio of Reigning European Champs Punch Ticket to Thursday Night's Finals
Wednesday, February 12, 2020 - 20:16 By Eric Olanowski
ROME, Italy (February 12) --- Reigning European champions Oksana LIVACH (UKR), Bilyana DUDOVA (BUL) and Yasemin ADAR (TUR) punched their tickets to Thursday night's finals and will look to defend their continental crowns from last year. 
Livach won three matches on Wednesday and will square off against Miglena SELISHKA (BUL) in the 50kg finals. She started her day with a two-point win over seventh-ranked Evin DEMIRHAN (TUR). She also defeated Demirhan by two points at last year's European Championships. 
Livach added a 12-2 technical superiority victory over Julie Martine SABATIE (FRA), setting up a semifinals match against U23 world silver medalist Milana DADASHEVA (RUS). She survived the 17-point back-and-forth brawl against the Russian and will face off against Miglena SELISHKA (BUL) in the finals.
Selishka stopped Kseniya STANKEVICH (BLR), 10-6, in the semifinals and will meet Livach in a rematch of last year's 50kg European finals.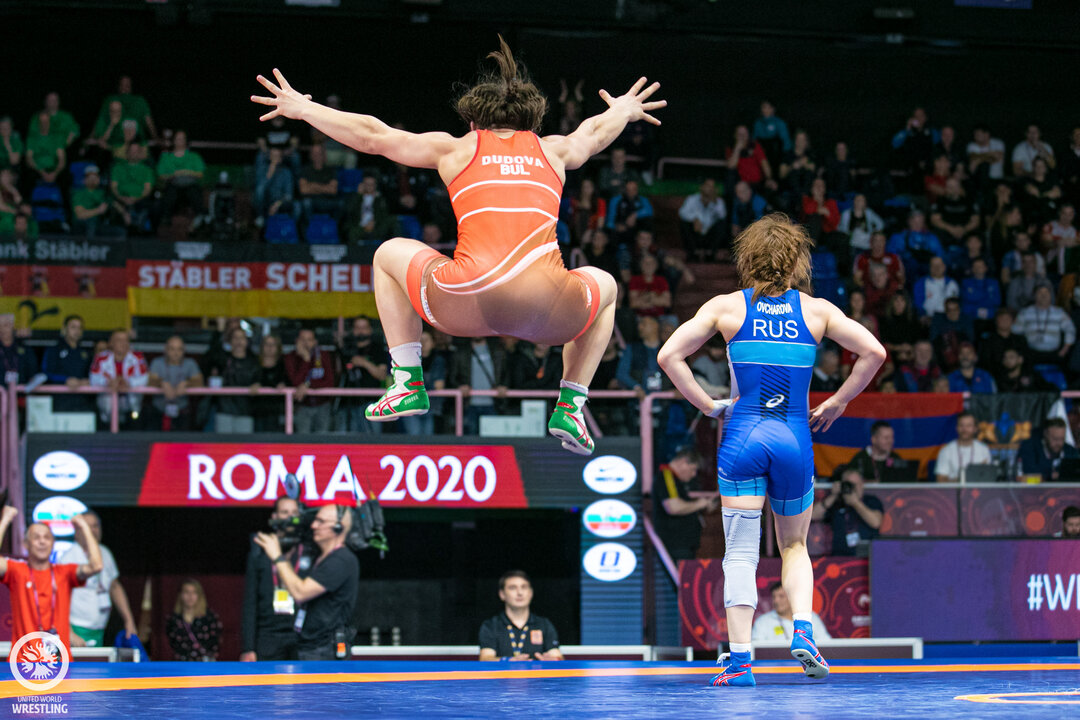 Bilyana DUDOVA (BUL) celebrates after beating Liubov OVCHAROVA (RUS), 5-5, in the 59kg semifinals. (Photo: Gabor Martin)
Bulgaria's Bilyana Dudova will wrestle rising star Anastasia NICHITA (MDA) for the 59kg gold medal. 
Dudova scored seven unanswered points in her semifinals match against reigning world silver medalist Liubov OVCHAROVA (RUS) and remained in line to defend her European title from last year. She was down 6-0 but scored seven straight points and will meet the young Moldavan who has been on a tear in Rome. 
Nichita, who'll celebrate her 21st birthday next week, went 3-0 on Wednesday, picking up a fall and outscored her other two opponents 20-0 en route to the finals.
She crushed Ramona GALAMBOS (HUN), 10-0, in her opening match, then pinned third-ranked Anhelina LYSAK (UKR) on her way to the semifinals. She reached the finals with a 10-0 shutout win over Laura MERTENS (GER). 
The 76kg finals will feature Yasemin Adar and Ekaterina BUKINA (RUS). 
Adar won three matches on Wednesday and made it to her fifth straight European finals. The four-time defending champion eked out a 5-4 win against third-ranked Aline ROTTER FOCKEN (GER) in her opening-round match. She followed that match up with a fall over Kamila Czeslawa KULWICKA (POL) and a 10-0 stomping of Pauline LECARPENTIER (FRA). 
Adar will wrestle Rio Olympic bronze medalist Bukina in a rematch of the 2018 European finals.
Bukina erased a five-point deficit against 2017 world silver medalist Vasilisa MARZALIUK (BLR) and will lace up in her fourth European gold-medal match. She's 0-3 in her previous three trips to the finals.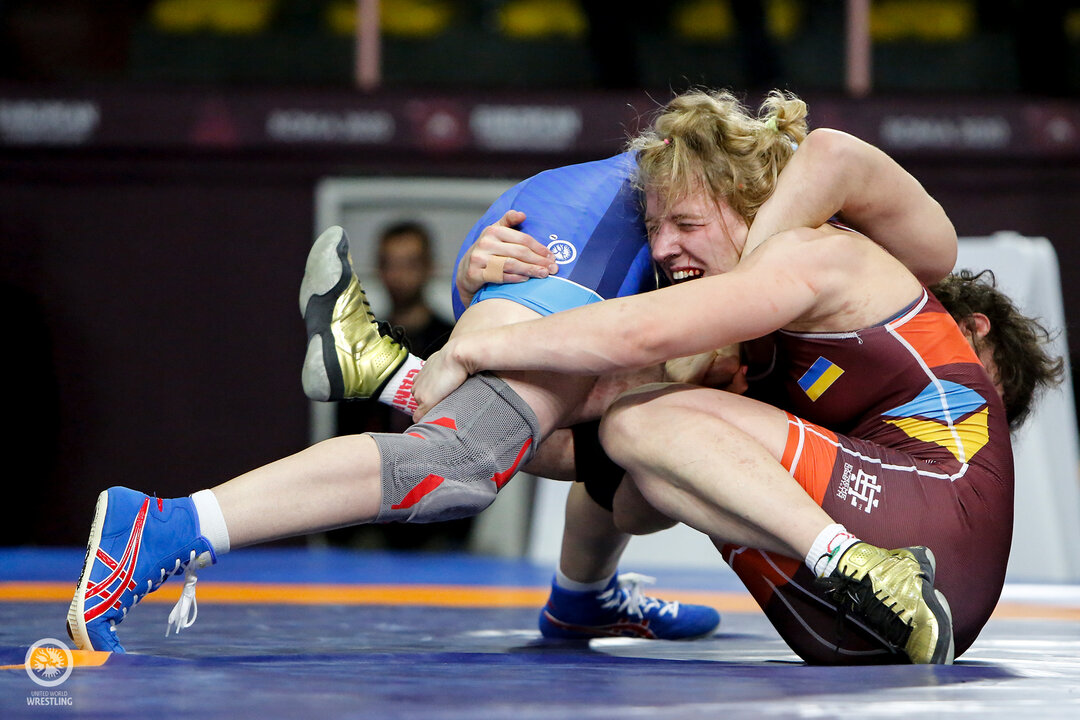 Khanum VELIEVA (RUS) locks up a cradle against world champion Alla CHERKASOVA (UKR) in their semifinals meeting. (Photo: Gabor Martin)
Russia Puts Three into Thursday Night Finals 
Olga KHOROSHAVTSEVA (RUS) and Khanum VELIEVA (RUS) joined Bukina in the winner's circle on Wednesday night and will wrestle for European gold on Thursday night. 
Olga Khorshavtseva laced her way to a 10-8 victory over Rio Olympic bronze medalist Sofia MATTSSON (SWE). She'll meet Solomiia VYNNYK (UKR), who edged Mariana DRAGUTAN (MDA) in the 55kg finals. 
Khanum Velieva picked up arguably the biggest win of her young senior-level career and set up a battle with Italy's unlikely European finalist, Dalma CANEVA (ITA). The Russian three-time age-group world champion dominated the 2018 world champion Alla CHERKASOVA (UKR), 11-1, and locked up a finals berth in her first senior-level European appearance.
She'll square off with Italy's Dalma Caneva in the 68kg gold-medal match. Caneva won two matches on Wednesday and closed her day out with a stunning 4-2 win over reigning world bronze medalist Anna SCHELL (GER).
The Day Four women's wrestling finals start at 18:00 (local time) and can be followed live on www.unitedworldwrestling.org.
RESULTS 
50kg
GOLD - Miglena SELISHKA (BUL) vs. Oksana LIVACH (UKR)
SEMIFINAL - Miglena SELISHKA (BUL) df. Kseniya STANKEVICH (BLR), 10-6 
SEMIFINAL - Oksana LIVACH (UKR) df. Milana DADASHEVA (RUS), 9-8 
55kg
GOLD - Olga KHOROSHAVTSEVA (RUS) vs. Solomiia VYNNYK (UKR)
SEMIFINAL - Solomiia VYNNYK (UKR) df. Mariana DRAGUTAN (MDA), 9-8 
SEMIFINAL - Olga KHOROSHAVTSEVA (RUS) df. Sofia MATTSSON (SWE), 10-8
59kg
GOLD - Bilyana DUDOVA (BUL) vs. Anastasia NICHITA (MDA)
SEMIFINAL - Bilyana DUDOVA (BUL) df. Liubov OVCHAROVA (RUS), 7-6 
SEMIFINAL - Anastasia NICHITA (MDA) df. Laura MERTENS (GER), 10-0 
68kg
GOLD - Khanum VELIEVA (RUS) and Dalma CANEVA (ITA)
SEMIFINAL - Dalma CANEVA (ITA) df. Anna SCHELL (GER), 4-2 
SEMIFINAL - Khanum VELIEVA (RUS) df. Alla CHERKASOVA (UKR), 11-1 
76kg
GOLD - Yasemin ADAR (TUR) vs. Ekaterina BUKINA (RUS)
SEMIFINAL - Yasemin ADAR (TUR) df. Pauline LECARPENTIER (FRA), 10-0 
SEMIFINAL - Ekaterina BUKINA (RUS) df. Vasilisa MARZALIUK (BLR), 5-5